In February 2022, TFTR Investment, together with Jidian Capital, completed an investment of tens of millions of yuan in BeLead Sensor Technology (Wuhan) Co., Ltd. (hereinafter referred to as "BeLead Sensor") to lay out the intelligent IoT industry in the field of infrared sensor.
1. Investor profile
l TFTR Investment Co., Ltd
Established in April 2013, TFTR Investment Co., Ltd ( hereinafter referred to as "TFTR") is a private equity fund subsidiary of TFTR Securities Co., Ltd, specializing in equity investment and private-equity fund management.
TFTR insists on the vision of "building an industry-financing ecology that benefits everyone" and the mission of "co-existing and co-prosperity with clients, helping the development of the real economy and industrial upgrading", becoming a capital partner of the real economy.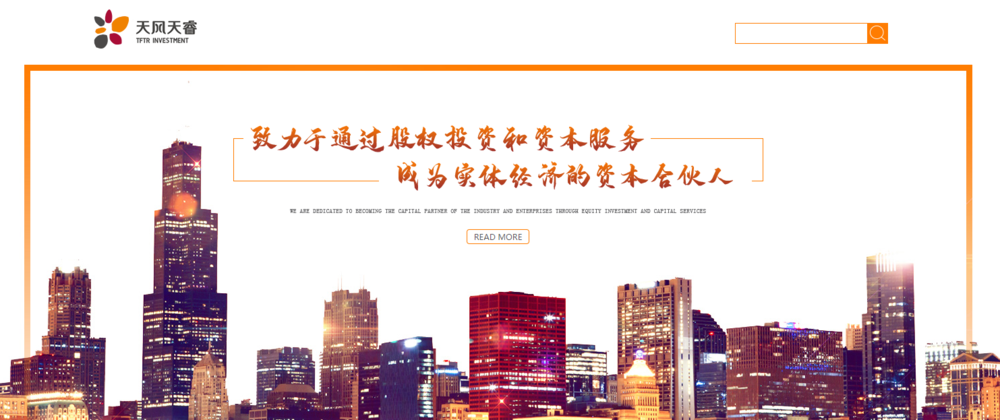 Figure source / TFTR Investment official website
l Jidian Capital
Jidian Capital, one of the few professional investment institutions in China whose founding team members come from real economy, is blessed with abundant and successful investment experience. Focusing on industrial manufacturing like new energy, high-end equipment manufacturing and new materials, they pay close attention to the innovation of high-tech business and leading companies in niche areas.
Adhering to investment philosophy at a high level, Jidian Capital discovers outstanding entrepreneurs and companies, helping them with their steady and rapid development, and together realizing the vision of "building a better era and achieving a technological life"!

Figure source / Jidian Capital WeChat Official Accounts
2. Investment background
With the development of the Internet of Things and the promotion of industrial intelligence upgrade, the scale of China's sensor market is rapidly expanding, while the market has put forward higher requirements for the advanced technology and product diversity of sensors.
As a company with more than 10 years of experience in chip development and 25 national patents, BeLead Sensor, with high-tech pyroelectric infrared detectors and intelligent infrared sensors as the main body, has formed a technology system based on new high-performance infrared sensitive element chips and highly matching signal processing circuits, combined with precise mounting technology and post-processing techniques.
At present, by virtue of the world-leading performance of products and state-of-art technology, BeLead Sensor has enjoyed a strong competitive advantage in import substitution, and gained wide recognition from many big players in the market of medical instruments, flame detection and gas analysis.
BeLead Sensor is currently enjoying rapid growth, and will develop both horizontally and vertically towards strengthening R&D to enrich the product roadmap and expanding downstream to increase the business volume, focusing on deepening the R&D of MEMS technology and promoting the mass production and manufacturing of MEMS products.
MEMS sensors are compact in size, light in weight, low in cost and power consumption, high in reliability, suitable for mass production, easy to integrate and realize intelligence, which is an important innovation and development trend of core parts of the sensor. These features earn MEMS sensor a huge application space in industrial IoT, smart home and other areas.
3. Why invest in BeLead Sensor
l TFTR Investment
"We believe that IoT hardware facilities, the premise of the development of the meta-universe, lay the foundation of the meta-universe, while sensors are the core devices of the most basic sensing layer in IoT. Following the fast development of IoT, the application in industry of infrared sensor, gas sensor, optical sensor, pressure-sensitive sensor and other kinds has achieved continuous expansion and deepening.
BeLead Sensor is stuffed with an excellent R&D and management team with R&D background from the Chinese Academy of Sciences, one of the top material institutes in China. The company insists on deep cultivation in the field of mid-to-high-end infrared sensor chips, and has won the recognition from domestic first-tier customers.
In the future, we will actively bring in rich resources and provide quality services for the company to help BeLead Sensor develop rapidly and become a leader in the field of infrared and gas sensors as soon as possible,", said Mr. Chen Shi, Deputy General Manager of TFTR Investment.
l Jidian Capital
Mr. Hu Xiaobin, Founding Partner of Jidian Capital, said, "Sensors are an important means for human beings to extend their self-perception and achieve digital control, and have accomplished rapid penetration in various industries in recent years, which make it a key industry for future development in China.
Specializing in this field for many years, BeLead Sensor boasts deep technical attainment, which to a certain extent resolves the passive situation of being stuck in this field for a long time. Jidian Capital has always been looking for outstanding entrepreneurs and founding teams like BeLead Sensor, and attaching great importance to promising and well-established strong technology industries.
BeLead Sensor highly complying with our investment philosophy results in our second investment. We believe that with the assistance of capital, BeLead Sensor will accelerate its transformation and grow rapidly into a leading company in the sensor field."

After the completion of the Series A financing of tens of millions of RMB, we will continue to follow the R&D as the source, rely on the continuous research and development strength of top universities, adhere to the road of scientific and technological innovation, and become the global leader and system solution supplier in the technology industry of infrared sensor . We firmly hold that through independent research and development, and constantly breaking the technical barriers created by European and American countries, BeLead Sensor will achieve a growth from a national brand that replaces imported products into a world-renowned "Made in China".